Fife adjusting to new place in pecking order
Fife adjusting to new place in pecking order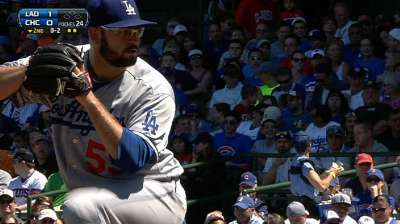 LOS ANGELES -- Being the sixth starter in a five-man rotation is no career goal, but it had been a pretty good gig for Stephen Fife this year until two things happened.
First, he flopped in a trial as a reliever at Triple-A Albuquerque. Second, concerned about Fife's struggles and intrigued by the availability of former 17-game winner Edinson Volquez, the Dodgers signed Volquez, who has taken Fife's sixth-starter role.
Fife said there are no hard feelings, even though he and Volquez have the same agent, Len Strelitz.
"I think it's all great," said Fife. "I would have chosen to [sign with the Dodgers] if I was him. It's the place to be, a dynamic play going in the right direction. If he can help us win one more game, it's all worth it."
Of course, Fife wouldn't mind the chance to do the same. He's 4-3 with a 2.47 ERA in nine starts as an on-call emergency starter for the Dodgers. But known for his peculiar and rigid pre-start routine, Fife was a fish out of water as a reliever with four runs allowed in four innings.
When returned to the Albuquerque rotation, he was "haywire," manager Don Mattingly said, and allowed six runs in a one-third inning start. He spent the next two starts trying to regroup.
"It was different for sure," he said of relieving. "Mentally, I didn't know how to handle it. I felt fine, but I got out of synch with my mechanics. It was a mental battle for me. No excuse or reason. I was thinking mechanical instead of attacking hitters and I realized all that and got back to keeping it simple."
Mattingly said he's not sure what Fife's role will be in September.
Ken Gurnick is a reporter for MLB.com. This story was not subject to the approval of Major League Baseball or its clubs.