Kemp won't return until he's comfortable at plate
Kemp won't return until he's comfortable at plate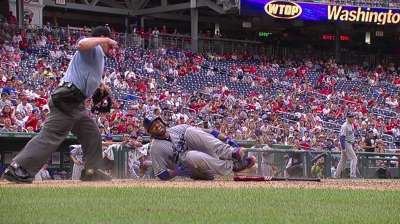 LOS ANGELES -- Matt Kemp's ankle is ready, but his bat isn't.
Manager Don Mattingly said Kemp won't rejoin the Dodgers until he feels comfortable at the plate, and so far he doesn't. He went 0-for-3 with two strikeouts and a walk Sunday in a fourth rehab game with Rancho Cucamonga and Mattingly said he needs more Minor League game action before he plays in the Major Leagues.
"We talked last night," said Mattingly. "I wanted to make sure where he's at and where we're at. We want, and he wants, to be ready when he steps back in. He needs to be comfortable and ready to compete. Matt's in the same spot.
"I know he doesn't feel good at the plate. He's not pushing us. He'll play today and the thought is to continue to play, we just don't know the logistics."
After missing five weeks with a sprained left ankle, Kemp is 0-for-14 with seven strikeouts in four rehab games. Kemp has played in 62 of the Dodgers' 135 games in the first year of an eight-year, $160 million contract.
Ken Gurnick is a reporter for MLB.com. Austin Laymance is an associate reporter for MLB.com. This story was not subject to the approval of Major League Baseball or its clubs.