Mattingly plays percentages with Belisario, 'pen
Mattingly plays percentages with Belisario, 'pen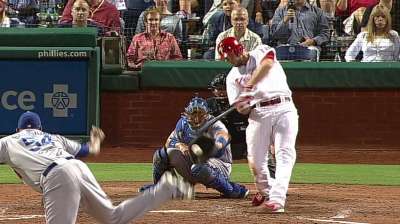 MIAMI -- In the bottom of the eighth inning Tuesday night, Ronald Belisario retired the first two batters he faced, but when left-handed pinch-hitter Juan Pierre was announced, Dodgers manager Don Mattingly brought in left-hander Paco Rodriguez.
Miami countered with right-handed hitter Jake Marisnick. Rodriguez struck him out, but Belisario complained to Mattingly that he should have been allowed to stay in the game and face Pierre.
"Belly got mad I took him out," said Mattingly. "I think he can get guys out, but I was going with the percentages. [Left-handed] guys hit close to .300 against him. I told Belly, if it had been a left-hander then a right-hander, I would have done it backwards and gone to Belly. I'm still playing the percentages.
"I know a right-hander would rather see Paco than Belly. I don't mind when they get mad. Kersh [Clayton Kershaw] gets mad. That doesn't bother me."
As for Belisario, left-handed hitters are hitting .303 off him, compared to right-handers at .252. The addition of Brian Wilson could provide Mattingly with the luxury of turning Belisario into a right-handed relief specialist, used only to face one or two of the best right-handed hitters in the opponent's lineup.
In Wilson's career, right-handed hitters are batting .251 against him, and lefties are batting .221.
Ken Gurnick is a reporter for MLB.com. This story was not subject to the approval of Major League Baseball or its clubs.