Hot-hitting Uribe gets breather before day game
Hot-hitting Uribe gets breather before day game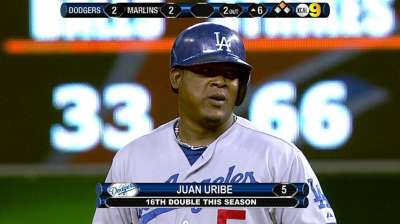 MIAMI -- It's testimony to Juan Uribe's comeback this year that reporters would actually ask manager Don Mattingly why Uribe wasn't in Wednesday night's lineup against the Marlins.
Last year, a healthy Uribe with a .191 average went the last six weeks of the season without being in the lineup.
"Day game tomorrow," said Mattingly, who tries to avoid playing his 30-something veterans in back-to-back night game/day games. "With [Clayton] Kershaw tomorrow, a left-hander, I want Juan in there, and I can't push him to go night and day."
Assuming the Marlins load their lineup with right-handed hitters, Mattingly and Kershaw are happy to have Uribe at third base. Uribe is second in the league in fielding at his position. Offensively, he's 10-for-17 on the trip to raise his average to .283, second highest on the club to Adrian Gonzalez's .298 for players that have been on the active roster since Opening Day.
Mattingly said that by resting Uribe, he's able to keep sharp Jerry Hairston, who started at third base Wednesday night.
"He's a decent matchup with Nathan [Eovaldi, the former Dodger who started Wednesday night for Miami]," said Mattingly.
Ken Gurnick is a reporter for MLB.com. This story was not subject to the approval of Major League Baseball or its clubs.