Uribe making a case for Gold Glove Award
Uribe making a case for Gold Glove Award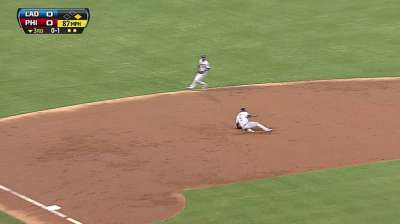 MIAMI -- The Dodgers are starting to talk about Juan Uribe in terms of Gold Glove Award consideration.
His defense has been stellar, as he has only three errors and a .985 fielding percentage, trailing only Placido Polanco for top fielding percentage by a National League third baseman this year.
The biggest thing going against Uribe is that he spent much of the first two months of the season sharing time at third base with Luis Cruz until Cruz was released. Uribe has played in 100 games, including 92 at third, entering Tuesday.
The Gold Glove for an NL third baseman has gone to a different player each of the last five years -- David Wright (2008), Ryan Zimmerman ('09), Scott Rolen ('10), Polanco ('11) and Chase Headley ('12).
While it should have no bearing on a defensive award, Uribe isn't hurting his chances of recognition by having a solid comeback with the bat. With three hits Monday night, his average is up to .281, second on the club to only Adrian Gonzalez (.295) for players who have been on the 25-man roster all season.
Ken Gurnick is a reporter for MLB.com. This story was not subject to the approval of Major League Baseball or its clubs.