Beard is back: Wilson joins Dodgers' bullpen
Beard is back: Wilson joins Dodgers' bullpen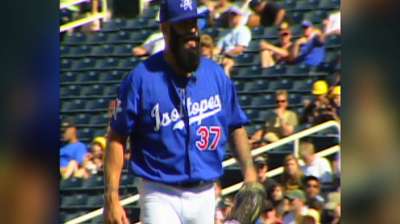 MIAMI -- Brian Wilson said his activation from the disabled list before Monday's Dodgers-Marlins game is the "final step" in his 16-month recovery from a second Tommy John surgery.
Wilson said reduced velocity "doesn't matter. It's about getting outs," and he convinced the Dodgers he's ready for the assignment. The Dodgers optioned outfielder Scott Van Slyke to Triple-A Albuquerque to make room for Wilson.
Wilson, who made four scoreless appearances while on a Minor League rehab assignment, gives the Dodgers three former All-Star closers to support current closer Kenley Jansen.
Manager Don Mattingly, going with eight relievers for now, said Wilson will help ensure that "we keep guys healthy and not overused. He's another guy we can use later in the game.
"He hasn't pitched in a long time. But there are things we know. We know he's not afraid, we know he's been there before."
Wilson hasn't pitched in the Major Leagues since April 2012, when he underwent Tommy John elbow surgery. He was non-tendered by the Giants last winter.
The Dodgers signed Wilson to join Ronald Belisario and Paco Rodriguez to pitch the seventh and eighth innings. Also in the bullpen is another pair of former All-Star closers -- Brandon League and Carlos Marmol -- along with J.P. Howell.
Van Slyke, who has been recalled four times this year, had given the Dodgers a right-handed power bat who can play the corner-outfield spots and first base.
Ken Gurnick is a reporter for MLB.com. This story was not subject to the approval of Major League Baseball or its clubs.