Mattingly: Learning curve still evident for Puig
Mattingly: Learning curve still evident for Puig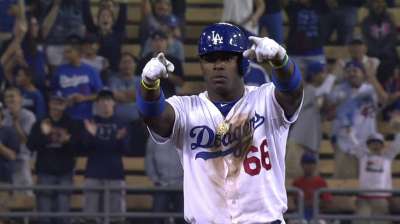 PHILADELPHIA -- For all of the remarkable accomplishments since Yasiel Puig arrived in the Major Leagues, there still are too many moments that try the patience of manager Don Mattingly, like when Puig was unnecessarily thrown out Saturday night going from second to third on a routine flyout and Hanley Ramirez on deck.
"These are the Spring Training stuff we talked about when you were asking why not bring him up," Mattingly said. "You want them to know the scoreboard, know the outs, who's coming up. These are mistakes you don't want to see. But you take the good with the bad."
There's been plenty of good, which is why the team started winning when Puig arrived and he immediately became an everyday player. But he hasn't immediately become a baseball-savvy everyday player.
"It happens more than it should," said Mattingly. "But you see it happen with their guy [Domonic Brown, who attempted and missed a diving catch on Friday]. We talk about when you try and when you don't.
"He's a good kid, too. He goes 0-for-4 and we win, he's as happy as anybody out there. All good traits. But there are things he's got to improve. But the guy loves to win, he loves playing and it's great to see it, a great trait. That's good energy."
Of course, Puig wasn't alone Saturday night. Veteran Ramirez was caught in a rundown when he broke too soon trying to steal third base in the ninth inning.
Ken Gurnick is a reporter for MLB.com. This story was not subject to the approval of Major League Baseball or its clubs.