Wilson rarin' to go, but Dodgers hesitant
Wilson rarin' to go, but Dodgers hesitant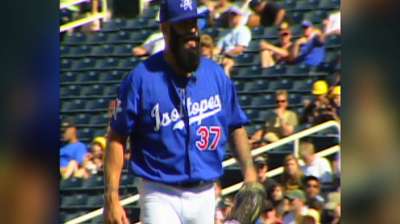 PHILADELPHIA -- Reliever Brian Wilson exited Friday's simulated game in good shape, but manager Don Mattingly remains noncommittal about when the former Giants closer will be activated off the disabled list.
The club's hesitancy is understandable. Activating Wilson will require a difficult roster move unless somebody gets hurt, and the Dodgers' bullpen has been pretty much untouchable lately.
But Wilson is itching to get back into battle, and his skipper seems eager to comply.
"I don't think he'll throw another sim game," said Mattingly. "He's all gamed out. We've pretty much crossed off everything he's been asked to do. We're getting there. We'll let you know.
"We're talking about spreading the workload out and he's another power arm, whenever we activate him. The whole bullpen has been good. It's not like somebody there is killing us."
Rosters don't expand for another two weeks. Mattingly said that the club could go with eight relievers and move a position player. The obvious candidate in that scenario is Scott Van Slyke, who has been called up four times this year, but the club needs to be satisfied that Andre Ethier's sore calf muscle is healed.
"It's fluid," said Mattingly. "We'll wait till that day. Injury-wise, it could make the decision for you, if you get a position player banged up."
The two relievers the Dodgers have options on, Paco Rodriguez and Chris Withrow, are being used in important roles during the team's hot streak. There's no indication that management is considering giving Rodriguez a rest, even though he's on pace for the heaviest workload of his young career.
Ken Gurnick is a reporter for MLB.com. This story was not subject to the approval of Major League Baseball or its clubs.