Mattingly explains decision to go with Jansen
Mattingly explains decision to go with Jansen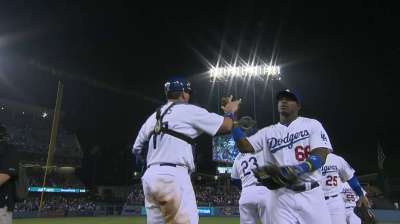 PHILADELPHIA -- Officially, a three-run lead is needed for a reliever to be credited with a save, but that's not how Don Mattingly is managing the Dodgers.
On Friday night, with a four-run lead and Brandon League warmed up in the bullpen, Mattingly still went with closer Kenley Jansen for the last three outs of a 4-0 win over the Phillies at Citizens Bank Park.
"You don't want the game to get away in a ballpark like this," said Mattingly. "In the ninth inning, with four runs, if you're sixth in the order, you can't let the first guys get on or it rolls around to [Chase Utley], and you don't want them to get a fifth time in this park. You can't let it get started. Stop it right now."
Mattingly said that his decision was influenced by some scoreboard watching, seeing at the time that second-place Arizona was headed toward a defeat.
"There was another game for us on the board, a game to pick up, and we knew it," he said. "You don't want to take a chance."
Mattingly originally warmed up only Jansen during the top of the ninth inning, then the Dodgers scored a fourth run. He would have gone to League had the lead been extended to five runs.
"It depends on our usage, and if we've used Kenley three straight games, you can't do that," he said. "It depends where you're at and who's behind him."
Ken Gurnick is a reporter for MLB.com. This story was not subject to the approval of Major League Baseball or its clubs.