Hanley returns to lineup from shoulder injury
Hanley returns to lineup from shoulder injury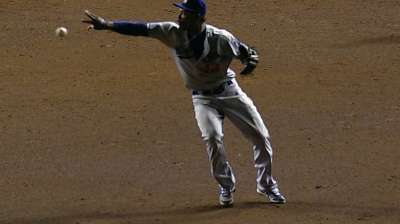 LOS ANGELES -- Dodgers shortstop Hanley Ramirez returned to the starting lineup Wednesday for the first time since injuring his right shoulder Aug. 4 in Chicago. Ramirez scored a run and had two hits, including a double, in the Dodgers' 5-4 walk-off victory against the Mets in 12 innings.
Ramirez was ready to play Tuesday, but the Dodgers waited to start him until Wednesday's series finale against the Mets because the club is off Thursday, which will allow the Dodgers' medical staff to evaluate how Ramirez's shoulder responds.
"We're going to be able to see how everything reacts after a game, so we'll know how to work going forward," said Dodgers manager Don Mattingly.
Ramirez injured his shoulder chasing a popup into the stands at Wrigley Field and was reduced to one pinch-hit appearance on Friday before Wednesday's start.
"He's good, he's ready to go," Mattingly said. "He's been wanting to play for two days now."
The Dodgers went 8-1 with Ramirez sidelined, as Nick Punto filled in at shortstop and drove in six runs in seven games. Dee Gordon started the other two games at short.
Ramirez has been limited to 55 games this season, hitting .359 with 11 home runs and 37 RBIs. He's also missed time because of offseason surgery on his right thumb and a hamstring issue.
Austin Laymance is an associate reporter for MLB.com. This story was not subject to the approval of Major League Baseball or its clubs.