Ethier cracks pinch-HR after avoiding scare
Ethier cracks pinch-HR after avoiding scare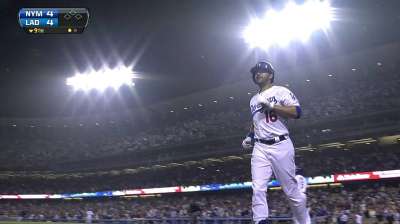 LOS ANGELES -- Dodgers outfielder Andre Ethier was not in the Dodgers' starting lineup Wednesday night because of a left calf issue, but he delivered a pinch-hit, two-run homer in the ninth inning to tie the game before the Dodgers went on to beat the Mets, 5-4, in 12 innings.
Ethier's third career pinch-hit homer carried over the left-field fence, a rare feat late at night at Dodger Stadium.
"I knew I hit it well, but here at night to the opposite field, not too many lefties hit balls out that way," he said. "I was looking for the left fielder to catch it against the wall. I put a good swing on it."
Ethier had a scare Tuesday when his left calf was still badly bruised and sore -- nine days after he was hit by a pitch on the calf -- and was rushed to the hospital. Fortunately, doctors ruled out a blood clot, and Ethier hopes to return to the starting lineup Friday in Philadelphia.
"They ruled out a blood clot and that was the main worry, because all of a sudden it came back and was throbbing," Dodgers manager Mattingly said Wednesday. "He's gotten a lot better today."
Ethier's calf has bothered him since Aug. 4, when he was hit by a pitch against the Cubs.
The Dodgers are off Thursday and hope to have Ethier back in the lineup Friday in the opener of a three-game series against the Phillies. He's been the club's most durable outfielder, playing in 115 games.
Austin Laymance is an associate reporter for MLB.com. This story was not subject to the approval of Major League Baseball or its clubs.