Sore ankle continues to give Kemp problems
Sore ankle continues to give Kemp problems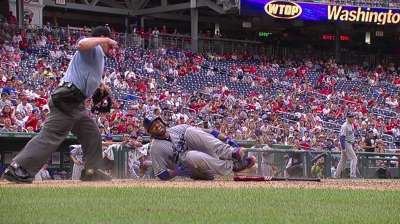 LOS ANGELES -- Dodgers center fielder Matt Kemp is progressing from a sprained left ankle, but still had a slight limp Monday during light agility drills on the field at Dodger Stadium.
Kemp worked out before Monday's game with Stan Conte, vice president, medical services, running in a straight line and stopping. Dodgers manager Don Mattingly said Kemp was running at 60 to 70 percent, and Kemp appeared to be bothered by the ankle.
"Stan is looking for a little bit more explosion," Mattingly said. "We've still got to get to the point where he's able to stop and turn. That puts pressure on your ankle."
Kemp also took early batting practice for the second straight day, spraying the ball to all fields with hitting coach Mark McGwire feeding the pitching machine.
"All the other stuff looks good," Mattingly said. "He's getting better. There are no worries about anything more than this thing taking a little bit of time. But we feel like we're getting there."
Kemp, on the disabled list for the third time this season, sprained his ankle in an awkward slide at home plate July 21 against the Nationals. He's been limited to 62 games this season, hitting .263 with five home runs and 27 RBIs.
Austin Laymance is an associate reporter for MLB.com. This story was not subject to the approval of Major League Baseball or its clubs.