Fife to start Sunday, Greinke moved back a day
Fife to start Sunday, Greinke moved back a day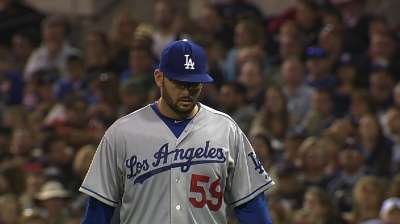 CHICAGO -- The Dodgers plan to use a sixth starter this rotation cycle and activate Stephen Fife from the disabled list to pitch on Sunday against the Cubs, pushing Zack Greinke to Monday night in St. Louis.
Greinke, who last pitched Tuesday night against the Yankees, didn't throw his between-starts bullpen session until Friday, which puts him on schedule to start Monday.
Fife, on the 15-day disabled list since July 7 with right shoulder bursitis, had been scheduled to make a rehab start for Triple-A Albuquerque.
The club hasn't yet announced the plan. Manager Don Mattingly was non-committal on Friday, saying Fife will pitch on Sunday for the Isotopes or the Dodgers, but he wouldn't elaborate.
By inserting Fife, the Dodgers will give their five-man rotation an extra day of rest. The juggling also shifts Greinke from facing the fourth-place Cubs to the second-place Cardinals.
It's unclear how the Dodgers will make room for Fife on the 25-man roster. Rookie right-hander Chris Withrow could be optioned, although he recently has been used in more important situations.
A more likely alternative is reliever Carlos Marmol, especially since the signing of Brian Wilson, another former All-Star closer. Marmol hasn't pitched in a week and wasn't sharp in his first two Dodgers appearances.
The former Cubs closer pitched for the first time as a visitor at Wrigley Field in Friday's 6-2 win over Chicago, working around a walk and a single for a scoreless ninth.
Also unclear is what will happen on the next rotation cycle -- whether Fife will remain in the rotation and displace Chris Capuano, or if Fife will be optioned back to Albuquerque.
Fife is 3-3 with a 2.76 ERA in eight starts for the Dodgers this season.
Ken Gurnick is a reporter for MLB.com. This story was not subject to the approval of Major League Baseball or its clubs.