Dodgers weighing options for Fife's return
Dodgers weighing options for Fife's return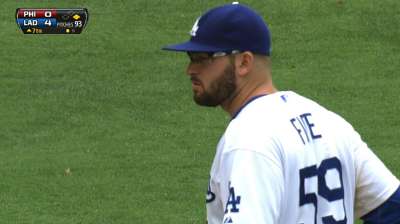 LOS ANGELES -- The Dodgers have a decision to make this week regarding right-handed pitcher Stephen Fife, who has been rehabbing in the Minor Leagues.
"He's making another start, we're just not sure where," Dodgers manager Don Mattingly said on Tuesday.
Fife, on the disabled list with right shoulder bursitis, made his second rehab start with Triple-A Albuquerque on Sunday, striking out seven in six innings. He allowed three hits and one unearned run. Fife's next start could be in the Majors, Mattingly said.
If the Dodgers decide to add Fife to the rotation, Chris Capuano would likely move to the bullpen. Capuano tossed 6 2/3 scoreless innings against the Reds on Sunday. The left-hander has been up and down since coming off the DL in June, with four scoreless outings and three starts in which he allowed at least five earned runs.
Capuano is 2-2 with a 3.72 ERA in seven starts since coming off the DL. Fife was 3-3 with a 2.20 ERA over his past seven starts before going on the DL earlier this month.
"We just don't know where we go with this at this point," Mattingly said. "Cappy threw the ball well the other day."
Fife is working out in Arizona at the Dodgers' Spring Training facility at Camelback Ranch-Glendale, along with Dodgers reliever Jose Dominguez.
Dominguez, on the DL with a left groin strain, has been limited to throwing from flat ground.
Austin Laymance is an associate reporter for MLB.com. This story was not subject to the approval of Major League Baseball or its clubs.