Crawford returns as Kemp's recovery continues
Crawford returns as Kemp's recovery continues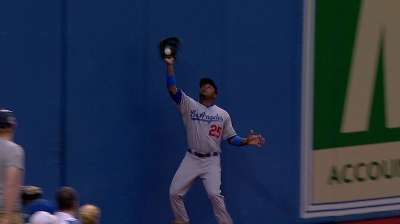 LOS ANGELES -- Matt Kemp hasn't made much progress with his sprained left ankle, but fellow Dodgers outfielder Carl Crawford returned to the starting lineup for Tuesday night's game against the Yankees after missing three games over the weekend with an illness.
Kemp has started hitting off a tee, but his ankle is still swollen and he's only been able to support 20 percent of his body weight while running on an anti-gravity treadmill. He played catch in the outfield at Dodger Stadium on Tuesday afternoon, but appeared to be favoring his ankle.
The Dodgers aren't sure when Kemp will be able to test his ankle with more strenuous workouts, and he still wears an immobilizing boot in the clubhouse. Kemp, on the disabled list for the third time this season, sprained his ankle in an awkward slide at the plate on July 21 in Washington.
"It wasn't a minor sprain, it was a little bit more than that," said Dodgers manager Don Mattingly. "It's not broken, and it's not something that's not going to get better. It's going to get better. It's just going to be a matter of time."
Crawford was sent to the emergency room on Friday, when his body temperature rose to 102 degrees because of a throat infection. He started feeling ill on Thursday morning, but was well enough to play and had three hits against the Reds. Crawford had not played since.
"I was worried," said Crawford, who is still taking antibiotics.
Crawford was in the leadoff spot Tuesday against Yankees left-handed pitcher Andy Pettitte. The outfielder has a seven-game hit streak, going 14-for-33 (.424) with three doubles and three RBIs during that stretch to break out of a 2-for-30 skid.
Austin Laymance is an associate reporter for MLB.com. This story was not subject to the approval of Major League Baseball or its clubs.