Lilly designated; Dodgers recall Herrera
Lilly designated; Dodgers recall Herrera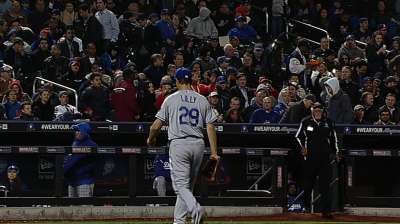 LOS ANGELES--The Dodgers had questions about Ted Lilly's health and his transition to the bullpen, so they designated the veteran left-hander for assignment on Thursday.
The decision to cut ties with Lilly came one day after he was activated from the disabled list for the third time this season. The Dodgers have 10 days to either place Lilly on waivers, release him or trade him. In a corresponding roster move, the Dodgers promoted utility man Elian Herrera from Triple-A Albuquerque.
"I'm obviously not happy about what happened," said Lilly, who was 0-2 with a 5.09 ERA in five starts. "It's a pretty big turn of events. I went from being activated yesterday to them changing their mind today."
After a career as a starter, Lilly hoped to contribute in a relief role when he came off the DL Wednesday in Toronto. He felt his body could not handle a starter's workload due to degenerative arthritis in his neck. He's also missed time with a strained ribcage muscle and lingering effects from last year's shoulder surgery.
Lilly has not pitched in the Major Leagues since June 4. The Dodgers wanted him to pitch out of the bullpen on a Minor League rehab assignment to give the club an idea of how long it took him to warm up and how his body would respond to pitching more than once every five days. But Lilly believed he did not need to rehab in the Minors. Instead, he threw several simulated games before being activated.
"I felt like I was ready to help us win games," Lilly said. "There was a difference of opinion there. I think it's a situation that wasn't great for anyone."
Dodgers manager Don Mattingly said there wasn't room for Lilly in a bullpen that has been much improved this month.
"It was just tough for us without seeing him, to displace one of the guys we have now," Mattingly said. "Of our lefties, Paco [Rodriguez] and J.P. [Howell] are doing their job."
Still, Mattingly said Lilly's health was the main reason the Dodgers designated him for assignment.
But Lilly said his neck hasn't bothered him for at least two weeks and he's "not far away" from being able to start.
"It's definitely the healthiest I've been in a long time," said Lilly, who expects to land with another Major League club. "Unfortunately, it took me this long."
The Dodgers acquired Lilly from the Cubs via trade in 2010. After going 12-12 with a 3.52 ERA, he signed a three-year, $33 million contract. Lilly made 33 starts in 2011, but has started just 13 games over the past two seasons.
"Without a doubt, coming in here and signing a three-year deal, playing one full year of that is difficult from my perspective," Lilly said. "That's been the biggest disappointment for me."
Austin Laymance is an associate reporter for MLB.com. This story was not subject to the approval of Major League Baseball or its clubs.