Dodgers contemplate move upon return to LA
Dodgers contemplate move upon return to LA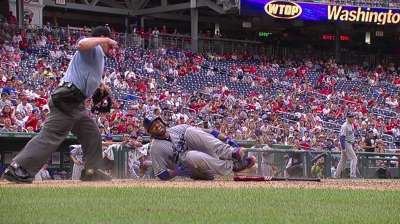 TORONTO -- With Matt Kemp going on the disabled list on Wednesday and Ted Lilly activated from it, the Dodgers figure to make a follow-up move for a position player as soon as Thursday, when they return to National League rules against Cincinnati at Dodger Stadium.
While an outfielder will be needed, it can't be Scott Van Slyke, who was optioned on Sunday and is not eligible to return until July 31, unless he replaces an injured player.
Alex Castellanos, who spent a week with the Dodgers when Van Slyke was injured, would be a logical candidate.
The Dodgers would need to counter the addition of a position player with the subtraction of a pitcher. The most obvious choice would be Chris Withrow, who has options and can be sent to the Minors without risk of being lost to another club.
Ken Gurnick is a reporter for MLB.com. This story was not subject to the approval of Major League Baseball or its clubs.