Lilly to work out of bullpen after activation from DL
Lilly to work out of bullpen after activation from DL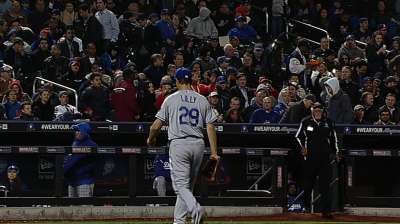 TORONTO -- Ted Lilly is back, this time as a reliever.
Lilly was activated from the 15-day disabled list Wednesday when Matt Kemp was added. Lilly will try his left hand at relieving after a career as a starter.
Lilly accepted the role change because his most recent injury, a flare-up of degenerative arthritis in his neck, had worsened to the point where he couldn't handle the physical demands of starting.
Manager Don Mattingly said Lilly could be used in several situations, from getting a left-handed hitter or in a long role. The Dodgers have not had a true long reliever this year.
"He will allow me to use [Chris] Withrow a little differently," Mattingly said.
Lilly last pitched in a Major League game on June 4. He was disabled earlier this season with a strained ribcage muscle and the lingering effects of last year's shoulder surgery.
The 37-year-old has gone 0-2 with a 5.09 ERA in five starts with the Dodgers this season.
Ken Gurnick is a reporter for MLB.com. This story was not subject to the approval of Major League Baseball or its clubs.