With DH in use, loss of Kemp not so severe
With DH in use, loss of Kemp not so severe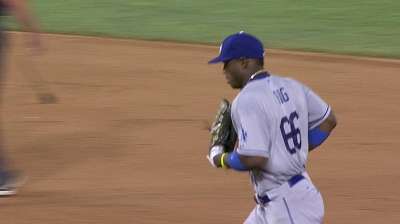 TORONTO -- Dodgers manager Don Mattingly said the club can more easily carry an injured Matt Kemp during the three-game series with the Blue Jays than it could against a National League opponent because of the designated hitter.
Kemp turned his left ankle on an awkward slide into home Sunday in Washington. Mattingly said a decision on whether Kemp needs to be disabled would likely be made on Tuesday.
"With the DH," said Mattingly, "I don't worry about it as much."
Monday night, he started Yasiel Puig in center field after putting Puig through extra fielding drills in center during early batting practice. Puig has started 36 games in right field for the Dodgers, but this was only his second start in center.
Mattingly said Andre Ethier would return to center field Tuesday night. Ethier served as designated hitter because Mattingly said he wanted to "get him off his feet for a game. He's been going hard for us."
Mattingly said he also wanted to give similar DH breaks to Carl Crawford, Adrian Gonzalez or Hanley Ramirez.
Skip Schumaker started for the Dodgers in right field Monday night.
Ken Gurnick is a reporter for MLB.com. This story was not subject to the approval of Major League Baseball or its clubs.