Kemp: X-rays negative, but he may return to DL
Kemp: X-rays negative, but he may return to DL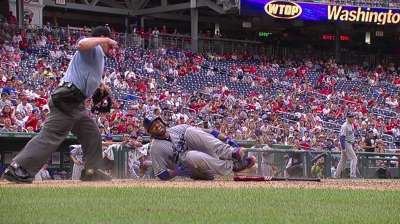 TORONTO -- X-rays on Matt Kemp's sprained left ankle were negative Monday night, but he left the clubhouse wearing an immobilizing boot and seems headed back to the disabled list.
Manager Don Mattingly said Kemp would likely miss the three-game series with the Blue Jays. He added that a decision on whether Kemp would need to be disabled would probably be made Tuesday.
But Mattingly added that he was less confident on Monday that Kemp would avoid a return to the disabled list than he was Sunday after Kemp injured the ankle with an awkward slide into home plate in the ninth inning of the Dodgers' 9-2 win in Washington.
Swelling in the ankle remained about the same as Sunday, even though Kemp spent most of Monday in the trainer's room receiving treatment.
Kemp already has spent two stints on the disabled list for shoulder and hamstring issues totaling 35 games and was activated only Sunday, when he hit a home run before suffering the injury when, he said, he didn't run hard from third base because he wasn't expecting a play at the plate.
Yasiel Puig started in center field for the Dodgers Monday night, but Mattingly said Andre Ethier would probably start in center Tuesday and Wednesday nights.
Ken Gurnick is a reporter for MLB.com. This story was not subject to the approval of Major League Baseball or its clubs.