Puig, Crawford return, but M. Ellis still out
Puig, Crawford return, but M. Ellis still out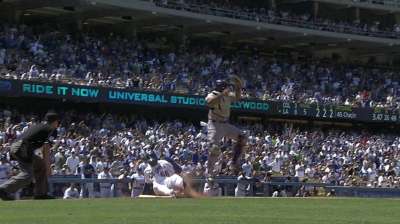 LOS ANGELES -- The Dodgers are banged up heading into the All-Star break, so the four-day layoff could do some good.
Yasiel Puig (left hip), Carl Crawford (lower back) and Mark Ellis (knee) were all held out of Sunday's starting lineup against the Rockies.
Puig was able to pinch-hit and play four innings in the outfield. The rookie singled in his first at-bat in the fifth and scored the Dodgers' only run in a 3-1 loss. Puig ran well on the bases, unlike Friday when he had a noticeable limp.
Puig believes the time off will allow him to recover and return to the lineup for a three-game series against the Nationals coming out of the break.
"Hopefully when we're in Washington I'll be able to start," Puig said.
Crawford entered as a defensive replacement in left field in the top of the ninth, and popped out to shortstop in his lone at-bat.
"Carl seems like he's getting better," Dodgers manager Don Mattingly said. "But he's probably not quite right. I feel like he's going to be ready to roll after the break."
Ellis fouled a ball off his knee in an eighth inning at-bat on Saturday night and was removed from the game.
"He's limping pretty good," Mattingly said.
Austin Laymance is an associate reporter for MLB.com. This story was not subject to the approval of Major League Baseball or its clubs.