Deadline passes with top 12 Draft picks signed
Deadline passes with top 12 Draft picks signed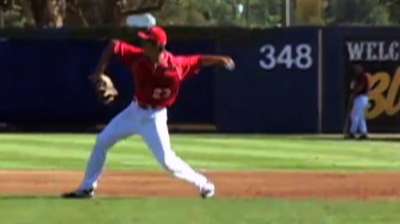 LOS ANGELES -- The Dodgers signed their top 12 picks from the First-Year Player Draft and 28 of their 40 selections by the time the 2 p.m. PT deadline for signing picks passed on Friday.
The Dodgers' top two picks, right-hander Chris Anderson and left-hander Tom Windle have already begun their careers with Class A Great Lakes. Both pitchers signed within a week of the Draft for the designated slot amount -- $2,109,900 for Anderson and $986,500 for Windle.
Anderson has made four starts for the Loons, striking out 16 over 12 innings with a 3.75 ERA. Windle has appeared in three games, including two starts, with a 2.08 ERA over 8 2/3 innings.
The Dodgers signed 18 of their top 20 Draft picks, with left-hander Ty Damron (13th round) and right-hander Peter Miller (16th round) remaining unsigned. Damron, from Krum High School (Texas), has a partial scholarship to play at Texas Tech.
The Dodgers also signed two non-drafted free agent catchers in Dimitrios Papantonopoulos from Cal State Dominguez Hills and David Reid-Foley from Mercer University (Ga.).
Austin Laymance is an associate reporter for MLB.com. This story was not subject to the approval of Major League Baseball or its clubs.