Puig tries to play through hip pain, but exits after four
Puig tries to play through hip pain, but exits after four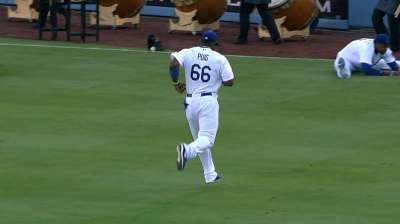 LOS ANGELES -- Dodgers outfielder Yasiel Puig tried to play through a sore left hip Friday against the Rockies, but was removed after four innings.
"It was bothering me a little bit," Puig said through a translator after the Dodgers lost, 3-0.
Puig did enough before the game to convince management that he could play, but jogged to first base with a noticeable limp after grounding out in each of his two at-bats.
"I'd rather have him off the bench for an at-bat than have him for a few innings," said manager Don Mattingly. "We've got to make sure our communication gets better. If you can't play, you can't play. There's no shame in that."
Puig also left Thursday's 6-1 win against the Rockies after the seventh inning. The rookie said the injury has lingered since he slammed his left leg into the right-field fence at Coors Field on July 3. Puig has started each game since, though.
"It feels a lot better today," he said. "I'll rest, get some treatment and see how it feels tomorrow."
Does Puig think a day off would be beneficial?
"It could be, but I really want to get on the field and play, because we're close to first place [in the National League West]," he said.
Scott Van Slyke replaced Puig in right field in the top of the fifth and went 0-for-2.
Meanwhile, Carl Crawford was scratched from Friday's lineup because of a stiff lower back.
Crawford felt stiffness in his lower back after taking early batting practice Friday, but it's been lingering since Thursday, Mattingly said. Crawford has not started the past two games and is 2-for-25 since returning from a strained hamstring last Friday.
"He tried to hit a little bit today, but it seems like it's still not quite where he wants it," Mattingly said. "So we'll just be a little careful and see as he warms up during the course of the game what he'll be able to do."
Skip Schumaker replaced Crawford in left field and at the top of the lineup and had one of the Dodgers' four hits.
Austin Laymance is an associate reporter for MLB.com. This story was not subject to the approval of Major League Baseball or its clubs.