Puig is day to day with sore hip
Puig is day to day with sore hip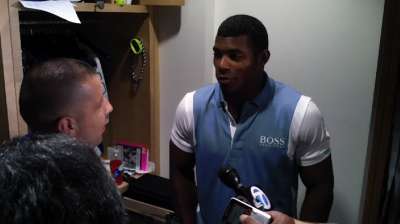 LOS ANGELES -- Dodgers outfielder Yasiel Puig is still feeling the effects of last week's collision with the right-field fence in Colorado, and left Thursday night's game against the Rockies after aggravating his left hip.
With the Dodgers ahead, 3-0, manager Don Mattingly pulled Puig after seven innings. Andre Ethier replaced the rookie in center field. Mattingly said Puig aggravated his hip running out a single in the fourth inning.
"It didn't seem serious, but as the game went on it looked like it was starting to tighten up a little bit," Mattingly said after the Dodgers beat the Rockies, 6-1. "It didn't seem worth it to take any chances with him. We'll see what he looks like tomorrow."
Puig is considered day to day with the injury, which originated July 3 when his left leg struck the padding that covers supporting poles in the right-field wall at Coors Field.
"It's been bothering me ever since," Puig said through a translator.
Puig said he wasn't sure if he could play Friday and would have to see how he responds to treatment.
Puig started in center field Thursday for the first time in his short Major League career. While Puig has primarily played right with the Dodgers, the Cuban prefers center.
"When I told him he was playing center field tonight, I thought he was going to hug me and kiss me," Mattingly said. "He was all excited about that. That's kind of the place he likes the best."
The Dodgers had limited options in center with Matt Kemp on the disabled list, Skip Schumaker finishing a two-game suspension stemming from the last month's brawl with the D-backs and Ethier out of the starting lineup against Rockies left-hander Drew Pomeranz.
Puig played some center with Double-A Chattanooga before his promotion in early June. He moved from right to center for two innings June 9 against the Braves.
Austin Laymance is an associate reporter for MLB.com. This story was not subject to the approval of Major League Baseball or its clubs.