Schumaker's suspension upheld by MLB
Schumaker's suspension upheld by MLB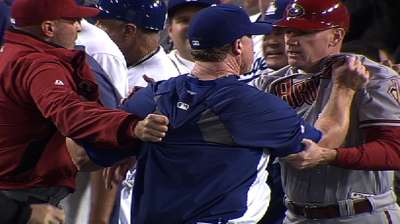 PHOENIX -- Dodgers outfielder Skip Schumaker's two-game suspension was upheld by Major League Baseball on Wednesday and he was just as annoyed as he was when he first received the discipline.
"I didn't do anything wrong," said Schumaker, who was suspended for what MLB called "aggressive actions" during the June 11 brawl with Arizona. "For pulling guys off each other I get suspended for two games. I appealed, but it didn't do any good. The video showed I didn't throw punches. Guys did more than me and nothing happened to them. It doesn't make sense.
Schumaker began serving the suspension Wednesday night, leaving the Dodgers a player short for the next two games.
Schumaker might have stood out in the video for two reasons -- as the on-deck hitter when Zack Greinke was hit by an Ian Kennedy pitch, Schumaker was already on the field and was one of the first Dodgers on the scene; he also didn't have a hat or helmet on and his shaved head was easily discernible in a scrum where all other participants were wearing caps.
"It's always an issue when you've got to play short a couple of days," said Dodgers manager Don Mattingly. "I know he appealed, but that's the way it goes."
Ken Gurnick is a reporter for MLB.com. This story was not subject to the approval of Major League Baseball or its clubs.