Adrian drumming up Final Vote support for Puig
Adrian drumming up Final Vote support for Puig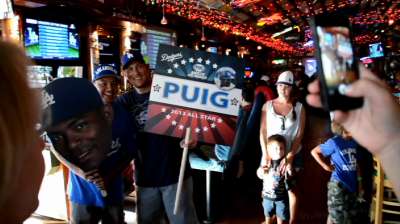 PHOENIX -- As a candidate for the All-Star Final Vote, Dodgers first baseman Adrian Gonzalez is doing a fine job as unofficial campaign manager for teammate and fellow candidate Yasiel Puig.
"Vote for me -- text N5," said Gonzalez, knowing that N5 is the code to vote for Puig.
Gonzalez essentially issued his concession speech Saturday, saying he would vote for Puig and he hoped the rookie would win the vote to make his first All-Star Game.
Gonzalez has four All-Star appearances, the first coming in 2008, his third full season in the Major Leagues.
Ken Gurnick is a reporter for MLB.com. This story was not subject to the approval of Major League Baseball or its clubs.