Kemp expected to return to action vs. D-backs
Kemp expected to return to action vs. D-backs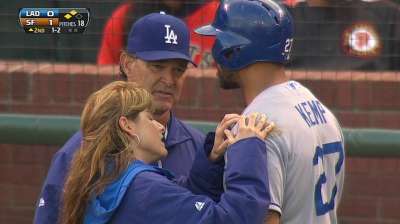 SAN FRANCISCO -- Dodgers outfielder Matt Kemp was out of the lineup for a second day because of his left shoulder, but manager Don Mattingly said Kemp would likely play Monday in Arizona.
"We feel like he'll be ready to go tomorrow," Mattingly said before Sunday's series finale vs. the Giants. "I'm not sure if he'll hit today, but everything that I heard is that he'll be ready to roll tomorrow."
Kemp left Friday night's 10-2 win over the Giants after feeling pain in his acromioclavicular joint (where the collarbone meets the shoulder) on a swing and a miss in the second inning.
Kemp had surgery last year to repair torn cartilage and rotator cuff fraying and a reinjury was Kemp's initial fear. But after talking to teammates that have had similar operations, including Adrian Gonzalez and Hanley Ramirez, Kemp and the Dodgers believe the pain was most likely from scar tissue.
Kemp received a cortisone injection Friday night and was shut down Saturday to allow the medication to reduce inflammation.
For the second consecutive game, Carl Crawford started in left field, Andre Ethier in center and Yasiel Puig in right.
Ken Gurnick is a reporter for MLB.com. This story was not subject to the approval of Major League Baseball or its clubs.