Dodgers to host three Final Vote parties
Dodgers to host three Final Vote parties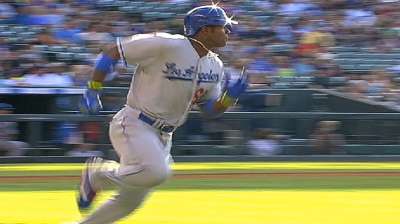 SAN FRANCISCO -- The Dodgers will hold All-Star viewing and voting parties Monday, Tuesday and Wednesday at the three Barney's Beanery locations to promote All-Star Final Vote candidates Yasiel Puig and Adrian Gonzalez.
Monday will be at the Burbank location, 250 North First St.; Tuesday will be at the Pasadena location, 99 E. Colorado Blvd.; and Wednesday will be at the West Hollywood location, 8447 Santa Monica Blvd.
Steve Garvey, a write-in All-Star in 1974, is the "Puig campaign manager" and will attend the events Monday and Tuesday nights from 6:30 p.m. to 8 p.m. PT, with Vic "the Brick" Jacobs and FOX Sports AM 570.
Prizes and tickets will be given away during game commercial breaks. The "Ultimate Puig Fan" will be given the opportunity to meet Puig on July 14, Puig T-Shirt Day at Dodger Stadium.
Fans can vote an unlimited number of times between now and 1 p.m. PT on Thursday online at Dodgers.com and on mobile devices. To vote via mobile device, fans can text N3 to 89269 to vote for Gonzalez and text N5 to 89269 to vote for Puig.
Ken Gurnick is a reporter for MLB.com. This story was not subject to the approval of Major League Baseball or its clubs.