Dodgers to juggle four outfielders among three spots
Dodgers to juggle four outfielders among three spots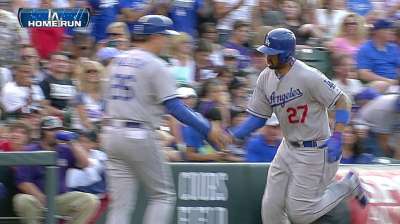 SAN FRANCISCO -- Dodgers manager Don Mattingly said he met with his four starting outfielders Friday to tell them that one won't be a starting outfielder each game.
"It's going to be a battle no matter how you slice it or how I say it," said Mattingly. "I just told them I'll try to put the best lineup out there every day."
Mattingly said several factors will go into his daily decision, among them current form, individual matchups against opposing pitchers, health issues and preventative days off.
In the case of Carl Crawford, who came off the disabled list Friday after straining a hamstring, Mattingly said he would be eased back into action in the same fashion as Hanley Ramirez and Mark Ellis were when they returned from pulled muscles. So Crawford was the first to sit, though he pinch-hit for Matt Kemp in the third inning after Kemp grabbed his surgically repaired left shoulder during a second-inning at-bat.
Mattingly said Kemp started Friday because he'd homered in the two previous games, even though his numbers against Giants starter Matt Cain (.216 lifetime) weren't great. Andre Ethier, on the other hand, is .444 lifetime against Cain, making him an easy choice for the manager.
And Mattingly reiterated that as long as rookie Yasiel Puig keeps putting up three hits a game, he'll keep starting.
"They understand the situation," Mattingly said. "I told them we'll do the best we can with it."
Mattingly said he doesn't expect the odd man out to be happy and wouldn't want him to be.
"If they were happy, I'd be a little disappointed," he said. "Actually, this is a good problem to have. I think there's enough playing time, but for a starter it will never be enough when you've got guys who want to play every day."
Ken Gurnick is a reporter for MLB.com. This story was not subject to the approval of Major League Baseball or its clubs.