Crawford's return puts Dodgers in 'sticky' situation
Crawford's return puts Dodgers in 'sticky' situation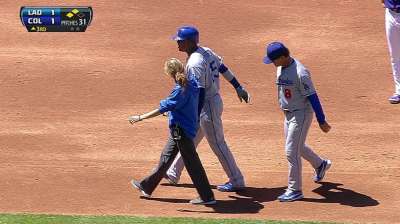 DENVER -- Carl Crawford has completed his injury rehab assignment, will meet the Dodgers on Friday in San Francisco, and manager Don Mattingly will finally be faced with mathematical reality.
"It will be a little sticky, honestly," said Mattingly. "Only three spots and four guys, and one of the guys gets three hits a night right now. It's going to be difficult."
Mattingly gets to explain to Crawford, Matt Kemp, Andre Ethier and the guy with three hits a night, Yasiel Puig, which one gets left out of the starting lineup each game.
"Once everybody gets here, everybody is going to have to give in a little," Mattingly said optimistically.
Mattingly said the club had not decided whether Crawford would be activated for Friday's series opener against the Giants, but with a day off Thursday after playing in four rehab games, that's the likely scenario.
Crawford was 5-for-13 in the four games with Class A Rancho Cucamonga. When he is activated, it will be the first time this season that the Dodgers haven't had a position player on the disabled list.
Ken Gurnick is a reporter for MLB.com. This story was not subject to the approval of Major League Baseball or its clubs.