Puig listed as day to day after bruising left hip
Puig listed as day to day after bruising left hip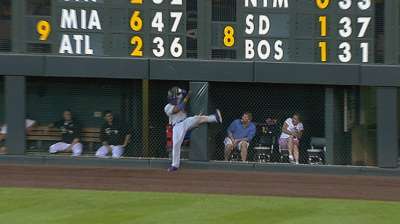 DENVER -- Cuban rookie sensation Yasiel Puig, named NL Player of the Month earlier in the day, escaped serious injury Wednesday night after crashing into the right-field fence at Coors Field, the same stadium where Matt Kemp was injured running into the center-field fence a year ago.
Although he left the game early, he did not leave the stadium, as he watched the fireworks show from the visitors dugout.
Puig is listed as day to day after suffering a bruised left hip and thigh making an off-balance catch of Nolan Arenado's line drive with no outs and runners on first and second in the bottom of the fifth inning. X-rays were negative.
"It was a great catch," said Dodgers manager Don Mattingly. "I've got a feeling we'll see a lot of that. He plays like that and he's going to get hurt."
Landing on his right foot, Puig's left leg swung across and struck the padding that fronts supporting poles of the fence. Puig threw the ball back into the infield as Wilin Rosario tagged from second to third, then crumpled on the warning track clutching his left thigh.
After being tended to by trainer Nancy Patterson Flynn, Mattingly and teammates, Puig stayed in the game. He came to bat in the top of the sixth inning and hit a sacrifice fly to left field, scoring Skip Schumaker.
But when the Dodgers took the field for the bottom of the sixth with a two-run lead, Puig was removed as part of a double-switch.
Mattingly said he wasn't overly concerned that Puig had been seriously injured.
"The fact that he got up and threw it in was a good sign," he said.
Ken Gurnick is a reporter for MLB.com. This story was not subject to the approval of Major League Baseball or its clubs.