Rehabbing Crawford, Lilly nearing return to big leagues
Rehabbing Crawford, Lilly nearing return to big leagues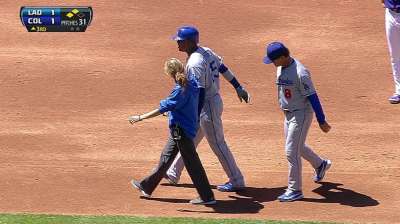 DENVER -- Carl Crawford could rejoin the Dodgers as soon as this weekend and Ted Lilly could be one rehab start behind him, but manager Don Mattingly indicated neither automatically gets his job back.
Crawford, who went 1-4 with a three-run double in his rehab game with Class A Rancho Cucamonga on Tuesday night, will become part of an outfield quartet, sharing time with Matt Kemp, Andre Ethier and rookie Yasiel Puig, who has become an instant fixture. Crawford will DH Wednesday, then possibly meet the club in San Francisco Friday.
"I don't want to give Puig days [off] when he's swinging the bat the way he's swinging," said Mattingly. "I will if he struggles or fights himself, but maybe that doesn't come up at all the way it's going. I'm serious."
Normally, the rookie Puig would be the one to sit, but that's not going to happen. Mattingly said he would discuss playing time with the outfielders "straight up."
"Everybody sees what Yasiel is doing," he said. "You keep throwing up three hits every day, you're in the lineup. Carl will need days off. Andre against a tough lefty and Matt against a tough righty. Even Puig might get a day."
Lilly will have trouble fighting his way back into a starting rotation, Mattingly hinted, because of the consistent pitching of Stephen Fife.
"Fife has pitched really well," said Mattingly. "Just like Yasiel in a sense, he's been competitive every outing and gives us a good chance to win. We're trying to win games. We'll put our five best starters on the field and work it out."
Ken Gurnick is a reporter for MLB.com. This story was not subject to the approval of Major League Baseball or its clubs.