Players, Mattingly upbeat about Marmol deal
Players, Mattingly upbeat about Marmol deal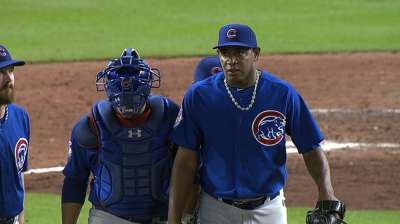 DENVER -- Even though the Cubs gave up on Carlos Marmol, reaction in the Dodgers clubhouse to his acquisition was upbeat.
"He was the most dominant closer I faced early on," said Skip Schumaker, whose Cardinals saw Marmol frequently as division-rivals of the Cubs. "He has a wipeout slider and a mid-90s fastball, so you couldn't sit on just one pitch. He baffled a lot of our really good hitters who never really had any success against him until last year."
Nick Punto, a Cardinals teammate of Schumaker, was equally impressed facing Marmol over the years.
"One of, if not the most, dominating in the game for awhile," Punto said. "If we can get him back to that, it would be huge. He's just got nasty, nasty stuff."
Said manager Don Mattingly: "I think about him in the playoffs and preparing from the hitting coach side of it, just power stuff and a breaking ball that, when he commands it, gives him two different pitches. I knew he's struggled the last few years, but you hope the change of scenery helps him and, at the end of the day, helps us. He still has good stuff with the potential to be nasty."
Ken Gurnick is a reporter for MLB.com. This story was not subject to the approval of Major League Baseball or its clubs.