Infielder Cruz opts for free agency instead of demotion
Infielder Cruz opts for free agency instead of demotion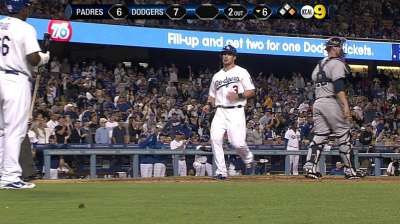 DENVER -- Infielder Luis Cruz elected free agency Tuesday rather than accept a Triple-A assignment by the Dodgers.
Cruz, a feel-good story last year when he came out of relative obscurity to win the starting third-base job in the second half, was designated for assignment by the Dodgers last week to make room for the activation of outfielder Scott Van Slyke.
By then, Cruz not only had lost the third-base job he had Opening Day, but was hitting .127 with one homer and six RBIs in 45 games. Last year he hit .297.
By declaring free agency, Cruz voids the remainder of his split contract, which would have paid him the pro-ratio of $148,000 in the Minor Leagues and $505,000 in the Major Leagues.
Ken Gurnick is a reporter for MLB.com. This story was not subject to the approval of Major League Baseball or its clubs.