Jansen solidifying closer's role for Dodgers
Jansen solidifying closer's role for Dodgers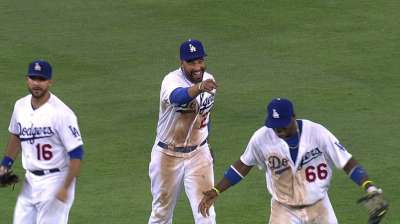 LOS ANGELES -- Kenley Jansen has made the most of his second turn as the Dodgers' closer.
Since manager Don Mattingly named Jansen the closer on June 11, the hard-throwing right-hander has converted four of five save chances. He's held opponents scoreless in seven of his eight outings, striking out 14 over eight innings.
"He's brought stability to the end of the game for us," Mattingly said. "It's been nice. I think he always wanted to be that guy."
Jansen was the closer last season, but complications from an irregular heartbeat forced him to miss time and the Dodgers traded for Brandon League. After coming over from Seattle, League finished the season as the closer and began 2013 in the same role. But League lost his job when he blew his fourth save on June 10.
Now, Jansen is back in a role he covets.
"I've always felt that way," he said.
Jansen has allowed just one run in his last 17 appearances, a solo homer in Pittsburgh on June 15 that resulted in his first blown save of the month. He's struck out 58 in 40 innings, though, with a 2.25 ERA and 0.925 WHIP.
"I'm just being aggressive and trusting my stuff and letting it work," Jansen said.
Still, Jansen is known to have a tender arm and was unavailable for Friday's 16-1 loss to the Phillies after pitching five of the previous six days.
Ken Gurnick is a reporter for MLB.com. Austin Laymance is an associate reporter for MLB.com. This story was not subject to the approval of Major League Baseball or its clubs.