Lilly starting Sunday for Rancho Cucamonga
Lilly starting Sunday for Rancho Cucamonga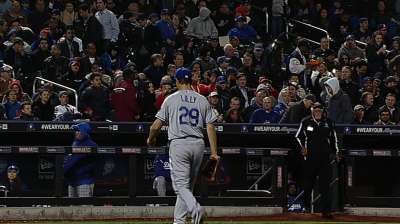 LOS ANGELES -- Dodgers pitcher Ted Lilly takes his third comeback attempt of the season to Class A Rancho Cucamonga Sunday for a rehab start.
Lilly has been out since June 5 with a flareup of a recurring neck disk issue. It's his third stint on the disabled list this year, as he spent a month on the DL when the season opened because of a slow recovery from shoulder surgery, followed by a three-week stint in May for a ribcage strain.
"It's been a challenge physically and mentally," said Lilly. "I have no option but to stay positive and work and be optimistic."
As he showed last year while winning five of his first six decisions, when Lilly is right he is the epitome of the crafty lefty. But he's tried to pitch hurt this year, going 0-2 with a 5.09 ERA in only five starts with the Dodgers. This will be his fifth Minor League start of 2013.
Where a healthy Lilly fits on the Dodgers staff when he returns is unclear, although the fact that the Dodgers have talked about trading for Ricky Nolasco and Matt Garza is proof they lack starting depth.
Because Lilly's injury history virtually rules him out of a relief role, he could bump rookie Stephen Fife back to Triple-A Albuquerque or return Chris Capuano to long relief. That was Capuano's assignment at the beginning of the year and an overlooked hole in the current makeup of the bullpen.
"Right now, our depth has really been tested, starter-wise," said manager Don Mattingly. "We're really at five, plus Ted. Matt [Magill] has struggled. So we've kind of exhausted our depth. Obviously we need Teddy to throw the ball well. It would be better for us if Teddy is throwing the ball well. And where we go from there, I don't know. Right now our depth is tested still. At any moment we could be down to four."
Lilly, 37, said he hopes to make 80 pitches Sunday. He's hopeful he will need only one rehab start before being activated, although he and management have differed over that issue in his earlier returns.
Ken Gurnick is a reporter for MLB.com. Austin Laymance is an associate reporter for MLB.com. This story was not subject to the approval of Major League Baseball or its clubs.