Ethier a 'savior' in center field for Dodgers
Ethier a 'savior' in center field for Dodgers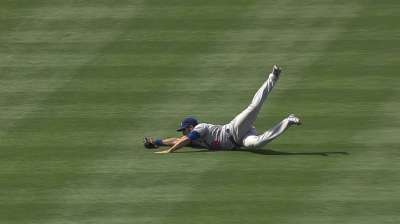 LOS ANGELES -- Andre Ethier has done well filling in for Matt Kemp in center field, which has made things a lot easier for the Dodgers and manager Don Mattingly.
Ethier started his 18th game in center field Monday. He's looked comfortable in his new position since moving over from right when Kemp went down with a hamstring issue at the end of May.
"He's been a savior, really," Mattingly said of Ethier, who played just one game in center last year. "I can't imagine what we'd be trying to do here if we didn't have him playing some center. I think he's been great. He gets really great jumps and he gets really good reads."
While Kemp is likely to return from the disabled list this week, Mattingly said Ethier would still see time in center field when Kemp comes back.
The Dodgers could also activate Scott Van Slyke from the DL this week. Carl Crawford is about two weeks away from returning from a strained left hamstring. With the outfield soon to be crowded, rookie right fielder Yasiel Puig won't see his playing time cut.
"Yasiel is going to play," Mattingly said. "We'll work around it."
With Ethier's ability to play both center and right, it sounds like he will move around when the Dodgers have their full complement of outfielders.
"We don't want to make three guys change spots," Mattingly said. "We want one guy to change. So that's what we'll try to do."
Austin Laymance is an associate reporter for MLB.com. This story was not subject to the approval of Major League Baseball or its clubs.