Kemp set for Triple-A rehab assignment
Kemp set for Triple-A rehab assignment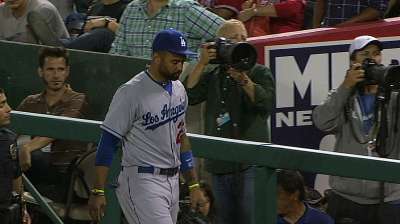 SAN DIEGO -- Dodgers outfielder Matt Kemp will begin a Minor League rehabilitation assignment Saturday, teammate Hanley Ramirez announced on his Twitter account.
Ramirez, apparently developing skills for a blogging career when his playing days are over, got the news from Kemp in the trainer's room after Kemp passed a baserunning test before Friday's batting practice.
My boy @TheRealMattKemp going on rehab assignment 2morrow! It will b good 2 get him back. #Albuquerque
- Hanley Ramirez (@HanleyRamirez)
June 21, 2013
Kemp, who is working his way back from a right hamstring strain, initially will serve as the designated hitter at Triple-A Albuquerque, then move to the outfield.
"I saw him run this afternoon and this is what I was hoping for, for him to go out and play," manager Don Mattingly said.
Mattingly estimated Kemp would need to play at least three Minor League games before being activated, which puts him on schedule for the end of the three-game series at home against the Giants or the start of the four-game set with the Phillies.
Kemp will be joined at Albuquerque by outfield teammate Scott Van Slyke, who is eligible to be activated Wednesday.
In other injury news, disabled pitcher Ted Lilly (neck strain) said he would throw off a mound Saturday.
Ken Gurnick is a reporter for MLB.com. This story was not subject to the approval of Major League Baseball or its clubs.