Magill, Palmer likely candidates to start Sunday
Magill, Palmer likely candidates to start Sunday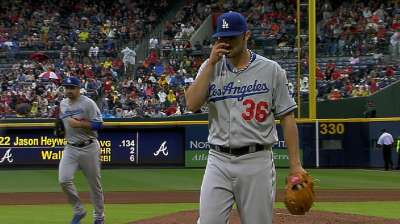 SAN DIEGO -- Manager Don Mattingly said he still wasn't ready to announce the Dodgers' starting pitcher for Sunday against the Padres.
Although his removal after two innings for Triple-A Albuquerque on Wednesday night seemed to be a tipoff it would be rookie Matt Magill, his Isotopes teammate Matt Palmer is still under consideration, even though he's not on the 40-man roster.
A 34-year-old journeyman right-hander, Palmer allowed one run over seven innings Tuesday night and is 3-3 with a 4.26 ERA in 11 starts for Albuquerque after missing most of April recovering from Spring Training knee surgery.
In addition to his sharper recent form, Palmer is 13-7 lifetime in the Major Leagues, including an 11-2 season with the Angels in 2009.
Magill is on the 40-man roster, which is why he's been recalled three times this year to replace injured starters.
On April 27 against Milwaukee in place of the injured Stephen Fife, Magill debuted impressively, allowing two runs in 6 2/3 innings. But on June 2 in Denver when Hyun-Jin Ryu had a bruised foot, Magill walked nine in six innings and allowed four home runs. On June 9 against Atlanta when Ted Lilly couldn't start, Magill walked six more in 3 2/3 innings.
Now, with the bullpen's usage in Wednesday's doubleheader, the Thursday option to Albuquerque of reliever Chris Withrow and no off-days before Sunday, the Dodgers can't afford another short start from Magill.
Ken Gurnick is a reporter for MLB.com. This story was not subject to the approval of Major League Baseball or its clubs.