Mattingly: Puig needs to earn All-Star selection
Mattingly: Puig needs to earn All-Star selection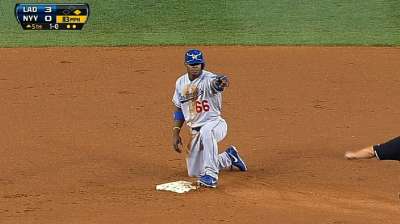 SAN DIEGO -- Don Mattingly isn't ready to support Yasiel Puig's All-Star candidacy after only 15 games, even if they've been a pretty spectacular 15 games.
"Right now? No," Mattingly said. "He doesn't have enough numbers better than everybody else. If he gets to the point where he puts up huge numbers, he should be considered."
Puig spent the first two months in the Minor Leagues, recalled from Double-A Chattanooga on June 3. Since then, he's assaulted the record books by hitting .474 with five homers and 11 RBIs.
"Who would you take him over?" Mattingly asked. "It's like the [Bryce] Harper thing last year. He should earn it. If you earn it, you should make it."
Mattingly said he understands the school of thought that the team should be selected based on fan appeal, but he just disagrees for a logical baseball reason.
"Not if you're saying you have the home-field advantage [of the World Series to the winner]," he said. "Then you should earn it. I want to support my player. If he plays well enough, he should make it. I want Hanley [Ramirez] and Adrian [Gonzalez], but I want the guys who deserve it to make it. I'm not saying they're not All-Star caliber, but they still have to earn the All-Star."
Mattingly said he wouldn't object if Puig participated in the Home Run Derby.
"He'd probably love it," he said.
Ken Gurnick is a reporter for MLB.com. This story was not subject to the approval of Major League Baseball or its clubs.