Mattingly fiddles with lineup for opener
Mattingly fiddles with lineup for opener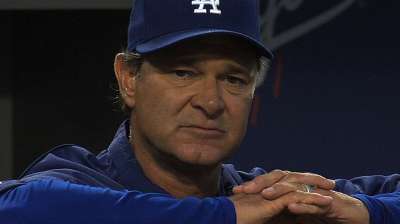 NEW YORK -- Manager Don Mattingly juggled the lineup for Game 1 of Wednesday's doubleheader from the one he presented Tuesday night after the Yankees started former Dodgers right-hander Hiroki Kuroda in the opener and held Phil Hughes for the nightcap.
For the opener, Mattingly switched Hanley Ramirez from shortstop to designated hitter, moved Nick Punto from third base to short, started Juan Uribe at third base, rested second baseman Mark Ellis, moved Skip Schumaker from left field to second base and started Alex Castellanos in left field.
Mattingly said he planned to start Ramirez at shortstop in the second game, Ellis at second base and will likely have Jerry Hairston at DH.
The Dodgers also will be making a roster move before the second game, activating pitcher Chris Capuano to make the start and optioning either Castellanos or reliever Chris Withrow.
Ken Gurnick is a reporter for MLB.com. This story was not subject to the approval of Major League Baseball or its clubs.