Magill the favorite for Dodgers' Sunday start
Magill the favorite for Dodgers' Sunday start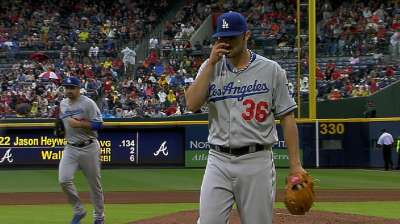 NEW YORK -- Manager Don Mattingly still wouldn't say on Wednesday night who will be called up to start for the Dodgers on Sunday.
But Triple-A Albuquerque's Matt Magill was yanked from his start on Wednesday night after only two innings, making him the most likely candidate.
Double-A Chattanooga's Zach Lee -- the Dodgers' No. 2 prospect, according to MLB.com -- was eliminated from consideration after pitching four innings and allowing six runs on Wednesday night.
Magill has had short and ineffective starts the last two times he was called up as an injury replacement, but he is on the 40-man roster.
The Dodgers could also turn to 34-year-old journeyman Matt Palmer, although he's not on the 40-man roster. Palmer allowed one run over seven innings on Tuesday night and is 3-3 with a 4.26 ERA in 11 starts for Albuquerque after missing most of April while recovering from left knee surgery he underwent during Spring Training. He is 13-7 lifetime in the Major Leagues, including 11-2 with the Angels in 2009.
Tuesday's rainout pushed back Hyun-Jin Ryu's start to Game 1 of Wednesday's doubleheader, leaving him only three days rest to return on Sunday.
Ken Gurnick is a reporter for MLB.com. This story was not subject to the approval of Major League Baseball or its clubs.