Kemp reports improvement with hamstring
Kemp reports improvement with hamstring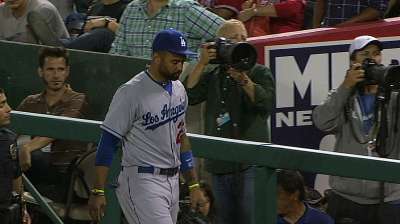 NEW YORK -- After aggressive running drills on the warning track on Tuesday afternoon before the series opener with the Yankees was postponed by rain, outfielder Matt Kemp reported that his strained right hamstring is improved and that he might try to run the bases on Wednesday.
Kemp, out since May 30, needs to be able to run the bases before the Dodgers send him on a Minor League rehab assignment, which would be the final step before his return to the club.
It was when he was running the bases more than a week ago that Kemp felt the hamstring tighten and had to back off.
"Matt said he was great today, and we'll push him more tomorrow," said manager Don Mattingly. "If that goes good, by the time we leave San Diego [on Sunday], I'm hoping Matt can play in a rehab setting at least three or four days."
That would put Kemp's return to the lineup no sooner than the Phillies series at the end of the month.
In addition, Carl Crawford continues to improve from his strained left hamstring, able to run straight but feeling discomfort on turns.
"I assume Carl is behind Matt," Mattingly said.
Ken Gurnick is a reporter for MLB.com. This story was not subject to the approval of Major League Baseball or its clubs.