Ethier's bat heating up as outfield crowd looms
Ethier's bat heating up as outfield crowd looms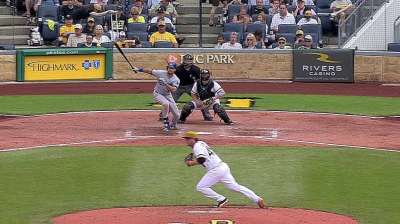 PITTSBURGH -- The Dodgers' offense has performed well below expectations this season, and so has outfielder Andre Ethier. The two, at least partially, coincide.
The 31-year-old Ethier was hitting .244 entering Sunday's rubber match with the Pirates, 33 points below his career average. He has just 20 RBIs in 65 games, as well, on pace for a career low.
But Ethier is 10-for-24 in his last six games -- including a 2-for-4, two-RBI effort in Sunday's loss to the Pirates -- and Dodgers manager Don Mattingly said if that trend continues, it will mean good things for the club's offense, one that desperately needs some sort of kick. Los Angeles has scored 240 runs, fourth-lowest in the Majors
"I feel like we're starting to see him swing the bat that looks more like Andre to me," Mattingly said. "He's had better at-bats. It's been coming for a while, but he's starting to look like himself again."
The Dodgers are 10 games below .500, 7 1/2 games behind the D-backs for first place in the National League West. If the club wants to start stringing together wins, Ethier's bat will be a major part in the next few weeks. He has given the Dodgers about 18 home runs and 75 RBIs a year since joining the team in 2006.
"I've had the types of at-bats that I want to have," Ethier said. "I go out there, get my pitch and execute."
But with the emergence of Yasiel Puig, along with pending returns of Matt Kemp and Carl Crawford, the Dodgers' outfield could be pretty crowded in the coming months, and Ethier isn't guaranteed everyday time. Kemp may return later this month, while Crawford likely won't, Mattingly said.
Mattingly said there should be enough room for all four to play down the stretch. He said he wouldn't consider moving Ethier to left field, although he may try Puig there.
It also remains to be seen whether Puig can keep doing what he's been doing. The Cuban defector was hitting .479 with a 1.271 OPS in 13 big league games.
"It may not look the same 10 days from now," Mattingly said of Puig. "As hard as he plays, he's going to get nicked and banged up, too. So him having some days is not going to hurt him."
Steven Petrella is an associate reporter for MLB.com. This story was not subject to the approval of Major League Baseball or its clubs.