Father's Day special for Hairston Jr., Punto
Father's Day special for Hairston Jr., Punto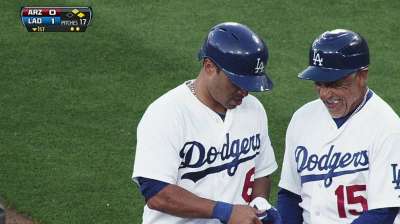 PITTSBURGH -- Jerry Hairston, Jr. recalls his father Jerry Sr., who played 14 Major League seasons, pitching to him in the backyard, saying if he can't get his son out, then no Little Leaguer can.
And the younger Hairston still carries that memory with him, especially Sunday, on Father's Day.
"It's a reminder of what your father means to you," Hairston said. "My father has meant a great deal to me and my siblings."
Skip Schumaker and Nick Punto both said Father's Day makes them remember how big of a part their fathers played in shaping the baseball players and people they are today. Both have children of their own, as well.
"It's a very special day, because my father was such a huge influence in my life and my baseball career, and me as a man," Punto said. "I rarely get to spend it with him because I'm always on the road playing baseball. But you see it every year, there's a lot of father-son combinations in the crowd."
All three Dodgers said it's never easy to be away from the children on Father's Day, or really any other time throughout the long season. But Hairston's kids are his biggest fans, and they always know where he is.
Punto's kids will have presents they made in school waiting when he gets back to Los Angeles.
"We'll be home in a few days," Punto said. "Father's Day is on hold, because we'll still celebrate it. Just a few days later."
One Dodger, the father to two girls, didn't celebrate anything Sunday, though.
"It's not Father's Day in Australia," reliever Peter Moylan said with a smile. "So today's not that special to me."
Steven Petrella is an associate reporter for MLB.com. This story was not subject to the approval of Major League Baseball or its clubs.