Mattingly shuffles lineup in hopes of more offense
Mattingly shuffles lineup in hopes of more offense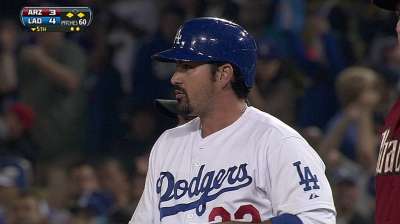 PITTSBURGH -- The Dodgers offense has enough pop to score more than it has this season. The club ranks 13th in the National League in runs scored, and with proven bats like Adrian Gonzalez and Hanley Ramirez in the middle, manager Don Mattingly feels there should be more.
Mattingly batted rookie outfielder Yasiel Puig in the No. 2 spot for the first time in his very young career in order to group him, Gonzalez, Ramirez and Andre Ethier together in the order.
"Just to see if we can get something rolling," Mattingly said. "Try different guys in different spots."
Puig can hit for power and contact, but also has the speed to turn a single into a double or steal a base, and the value of that in a tight game is something Mattingly likes from his one or two hitters. Skip Schumaker led off on Saturday.
Gonzalez has been slumping lately, and he has just four RBIs in 46 at-bats this month entering Saturday's game. In his last seven games, he is 4-for-26.
Mattingly said getting Gonzalez some protection with Ramirez batting fourth will hopefully spark something offensively. When Matt Kemp and Carl Crawford return from injury, as well, that will bolster the lineup even more.
Gonzalez said he needs to keep his approach the same and not worry about the results, because that's how players start slumping.
"He's going to have his little points in time where he's going to struggle like everybody else," Mattingly said. "Adrian's fairly consistent. He gets his hits. Usually when Adrian struggles, he swings out of the strike zone."
Steven Petrella is an associate reporter for MLB.com. This story was not subject to the approval of Major League Baseball or its clubs.