Van Slyke to DL as Withrow, Castellanos called up
Van Slyke to DL as Withrow, Castellanos called up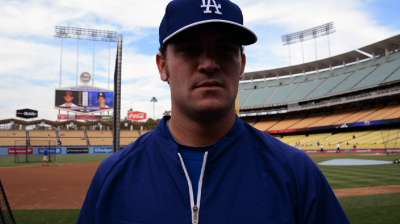 LOS ANGELES -- The Dodgers promoted reliever Chris Withrow and outfielder Alex Castellanos from Triple-A Albuquerque on Tuesday, placing Scott Van Slyke on the 15-day disabled list with left shoulder bursitis and optioning infielder Justin Sellers.
Withrow provides a fresh arm to a bullpen that is under siege after Brandon League blew a save Monday night. For that game, Ronald Belisario was unavailable after pitching 2 1/3 innings on Sunday. Belisario is dealing with soreness in his right collarbone, and manager Don Mattingly said he would try to avoid using the right-hander again on Tuesday against the D-backs.
Castellanos provides depth to the outfield, where the Dodgers are playing without the injured trio of Matt Kemp, Carl Crawford and Van Slyke, all on the DL.
Van Slyke had been playing through worsening discomfort that originated from an attempted diving catch of a double hit by the Cardinals' Yadier Molina on May 25. At the time, Van Slyke described the injury as similar to whiplash.
He missed only one start after the play and until Monday had started every game in left field since Crawford strained a hamstring June 1. He homered as recently as five days ago, but is hitless in his last 11 at-bats and Mattingly said he noticed Van Slyke appeared stiff while batting Sunday.
"I started cutting my swing off and being careful at the plate because I didn't want it to get any worse," Van Slyke said. "It was limiting how hard I could swing."
Van Slyke's is the club's 20th disabled-list injury this season. Sellers had been recalled only Monday when Matt Magill was sent back to Albuquerque.
The short-handed Dodgers also are carrying, but not playing, shortstop Hanley Ramirez and his lingering hamstring issue.
The 24-year-old Withrow was 4-0 with a 1.93 ERA and 30 strikeouts in 23 1/3 innings for the Isotopes. He also has issued 12 walks, but only one run and one walk in his last six outings. He's also allowed no home runs and is fresh because he hasn't pitched since Friday night.
"He's a got a big arm and we'll try to get him in the mix and see where he fits," Mattingly said.
Withrow missed most of Spring Training with back spasms from a bulging disk that has plagued him throughout his professional career. He was selected in the first round of the 2007 Draft and pitched only 13 innings in his first two pro seasons as he had to overcome arm injuries and the yips. He made the transition from starter to reliever during the 2012 season.
The 26-year-old Castellanos had been on fire offensively lately for the Isotopes, with nine homers and 28 RBIs in 43 games.
Austin Laymance is an associate reporter for MLB.com. This story was not subject to the approval of Major League Baseball or its clubs.