Injuries slowing progress for Lilly, Crawford
Injuries slowing progress for Lilly, Crawford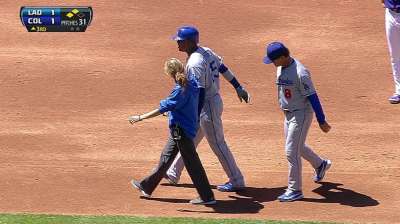 LOS ANGELES -- Dodgers left-hander Ted Lilly is questionable to make his scheduled start on Sunday, and outfielder Carl Crawford is expected to miss more than two weeks with a strained left hamstring.
Lilly, who is dealing with a neck issue, played catch and ran on Thursday but is not expected to throw a bullpen session in advance of Sunday.
"It didn't look very good in the training room today," said manager Don Mattingly, who added he wasn't sure who would replace Lilly if the veteran was unable to start.
As for Crawford, the Dodgers expect him to miss more than the minimum 15 days on the disabled list after an MRI exam on his strained left hamstring revealed swelling.
"That tells us it was fairly significant," Mattingly said. "It doesn't sound like two weeks."
Crawford was placed on the disabled list on Monday, retroactive to June 2. But the Dodgers aren't sure he will be back this month.
Hanley Ramirez, meanwhile, returned from a hamstring strain on Tuesday and had a planned day off on Thursday. Ramirez said his hamstring was fine and the shortstop is available off the bench for the series opener with the Braves.
Mark Ellis was also out of the lineup on Thursday for the fourth time in the past five games. The second baseman is nursing a right groin strain, and Mattingly said he had Ellis "penciled in" to start on Friday.
On the positive side, right-hander Matt Guerrier was available out of the bullpen on Thursday after a comebacker struck his pitching hand on Tuesday.
Austin Laymance is an associate reporter for MLB.com. This story was not subject to the approval of Major League Baseball or its clubs.