Puig shows off skills in Major League debut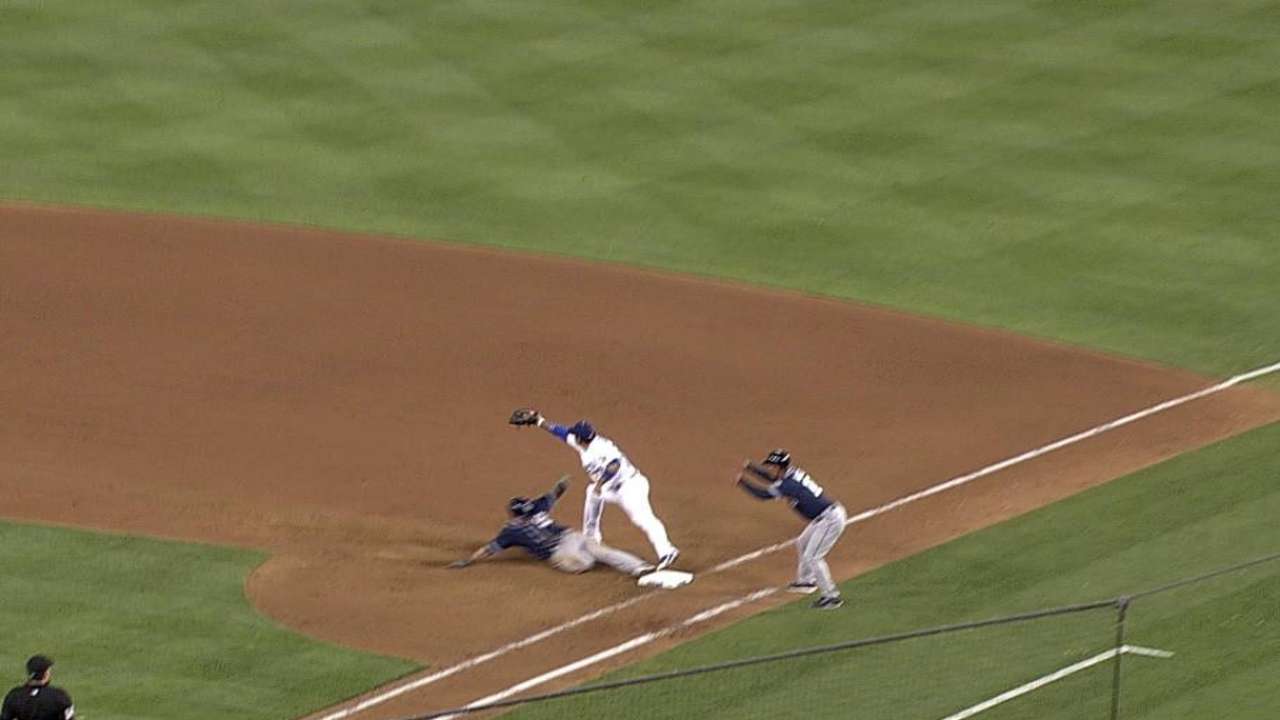 LOS ANGELES -- Yasiel Puig, the Dodgers' 22-year-old sensation of the spring, was welcomed to Dodger Stadium for his Major League debut on Monday night with a start in right field and the leadoff role against Padres left-hander Eric Stults.
Puig responded with a single in his first at-bat, and an incredible throw from the warning track in right to double off Chris Denorfia at first to end the ninth and cap a 2-1 Dodgers win.
"I'm very happy," said Puig, who went 2-for-4 to become the first Dodger with a multi-hit game in his big league debut since Russell Martin in 2006. "I got two hits. We won the game. I made the last out of the game. Thank God."
Puig caught a fly ball by Kyle Blanks a few steps in front of the wall, and fired to first to beat Denorfia just in time. Denorfia had slid into second base as infielders Nick Punto and Luis Cruz faked like they were fielding a ground ball.
"He's got a great arm," said first baseman Adrian Gonzalez. "That was a great play. It started with Nick and Cruz faking Denorfia out to give Puig a chance. But that was an incredible throw."
Puig, a native of Cuba who signed last year to a seven-year, $42 million Major League contract, was hitting .313 with eight homers and 37 RBIs in 40 games for Double-A Chattanooga. His .599 slugging percentage was leading the Southern League along with his batting average. He also has 13 steals.
"I'm real excited," Puig said through an interpreter, "and want to help the Dodgers fight the battle. I know I can come up here and help the team. I'm going to do whatever I can to help the team."
Dodgers manager Don Mattingly said he wanted to keep Puig in right field, his primary position at Chattanooga, with Andre Ethier moving to center. Matt Kemp and Carl Crawford, two-thirds of the regular outfield, are on the disabled list. The young outfielder replaced Matt Magill, who made a spot start on Sunday, on the 25-man roster.
As for having the new man assume Crawford's leadoff role, Mattingly said, "He gives us energy at the top. He can steal a base, hit a homer. I just want him to play, that's all. It's his first game. I'm sure there are going to be some nerves."
Mattingly said he sees some Bo Jackson and Mike Trout in the 6-foot-3, 215-pound Puig from a physical standpoint.
"He's got that NFL running back type body," Mattingly said.
Puig left a deep impression on everyone who saw him in Cactus League play, hitting .517 with five doubles, two triples, three homers and 11 RBIs in 27 games before he was optioned to Minor League camp on March 26.
Padres manager Bud Black wasn't sure how to pronounce his name, but didn't mind sharing the outline of a scouting report on Puig.
"He's very talented," Black said."He's got a lot of tools. He's got some power. He's got some speed. He has a good throwing arm. He has the hit tool. It looks like he can hit."
Controlling his aggression at the plate figures to be Puig's biggest early challenge in the Majors, where he figures to see a steady diet of off-speed pitches.
"Yasiel is a really confident kid," Mattingly said. "He plays hard. He's fun to watch. We saw him in spring hit balls to right-center on a line, hit a popup and end up at third. It's just the energy he brings, so many things [to like about him]."
Austin Laymance is an associate reporter for MLB.com. Lyle Spencer is a columnist for MLB.com. This story was not subject to the approval of Major League Baseball or its clubs.