Dodgers play it safe, recalling Magill to start for Ryu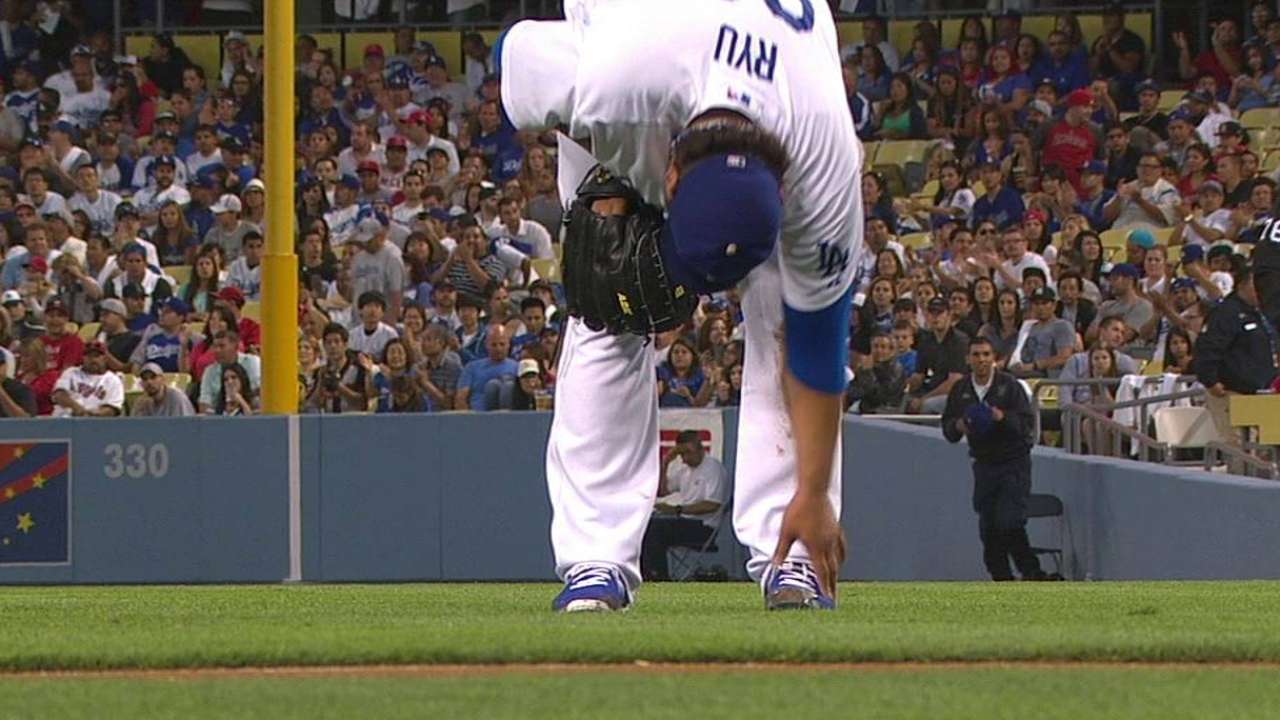 DENVER -- The Dodgers decided to be safe rather than sorry, so they scratched Hyun-Jin Ryu from Sunday's start against the Rockies and replaced him with Matt Magill, who was recalled from Triple-A Albuquerque. They placed catcher A.J. Ellis on the 15-day disabled list to make room for the rookie right-hander.
Ryu, still sore from a Mark Trumbo comebacker that nailed the top of his left foot in his Tuesday night two-hitter, will throw a rare bullpen session Monday to test the foot. The club believes he can start Thursday or Friday.
While some might question Ryu's comments about not wanting to pitch unless he felt 100 percent healthy, manager Don Mattingly isn't among them.
"I don't want him doing something to his arm because he's not pushing off," said Mattingly. "Him and Clayton [Kershaw] use their legs more than any of our guys. It's so important. Any little change can affect the arm in some way, and that's what we don't want to do. He'll be the one to make the call. He says he'll be ready later this week.
"I'd rather him be honest and miss a start and pitch in four days or three days than to not be right and go out and hurt himself. You want guys to play, but not if they'll hurt themselves. With him, that's something fairly serious with pitchers. You can change the angle a little bit. Next thing you know, you're hurting things. That's being smart. The other route, he gets hurt and misses three months and they say, 'Why'd he pitch?' and nobody remembers he took one for the team."
Magill is expected to be up for one start, then sent back down after the game, which would make room for the promotion of an outfielder -- most likely Yasiel Puig. Of course, as with anything Dodger, that could change.
Magill last started for Albuquerque on May 25 and was synched with the start of Ted Lilly, who was coming off the disabled list. After Ryu was injured, the Dodgers withheld Magill so he would be fresh if needed to replace Ryu.
Ken Gurnick is a reporter for MLB.com. This story was not subject to the approval of Major League Baseball or its clubs.